South Tyrol & Merano weather

Today: Sunny weather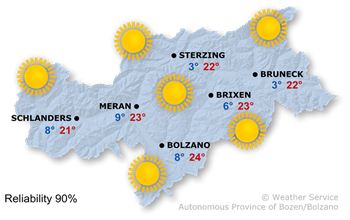 Very sunny during the afternoon. Top temperatures between 20° and 24°.
---
Tomorrow: Sunny start, some rain in the evening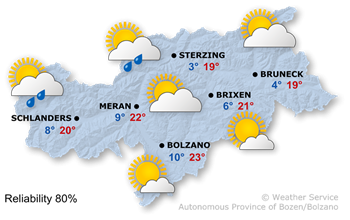 Very sunny in the morning, only in the Tauferer valley some fog is possible. In the afternoon clouds will reach South Tyrol, in the evening some rain is possible. Maximum values between 19° in Bruneck and 23° in Bozen.
---
Next days Weather forecasts: The new week will bring sun and clouds
On Sunday many clouds and especially in the South in the morning some rain is possible. On Monday partly sunny weather with some low stratus clouds in the morning. Tuesday and Wednesday a mix of sun and clouds, in the afternoon single rain showers are possible.